Hiya folks! here's the start of my sketches from the indoor waterpark I'm working at now (Great Wolf Lodge in the Poconos, PA).

these are from early November. lots and lots more coming up! and better crazy ones too, heh.
I like this one.
I thought this was a boy, but my co-worker insisted it was a lil girl, heh. whatever.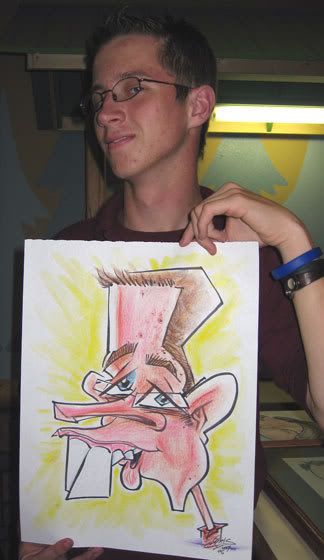 this is Tad, who came up for a couple weeks from a north carolina park to draw with us, too bad he didn't stay longer, he's a cool ass dude. he also drew a great sketch of me that I'll post. I drew a couple more versions of him later on that I'll post. I like this one, it's silly. too bad he didn't show his teef in the photo, heh.
this is my co-worker, Marian. I drew 2 more versions of her a few weeks later that I like a lot and another one the other day that me likey mucho. this one is ok. more the nice exaggerated version. the 2nd one I drew is one of my favs and is really retarded looking, in a good way, heh. actually, all the versions of her are pretty tarded looking and some of my favs, heh.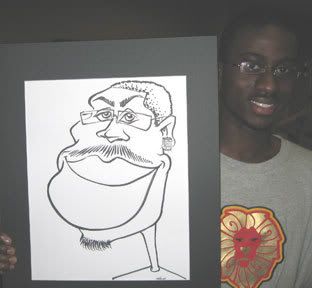 a demo that he bought. fun.
another demo that he bought and later wanted colored. loved that he made a face for me to draw.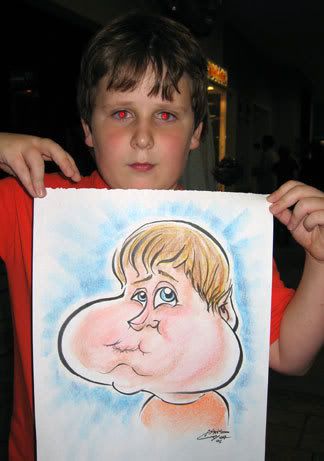 colorfied! it's like magic!...just without the wow factor, uh, yeah.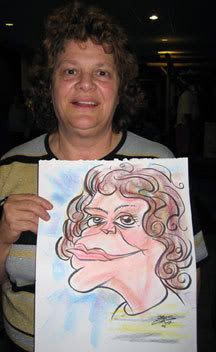 a quickie. experimented with coloring technique a bit.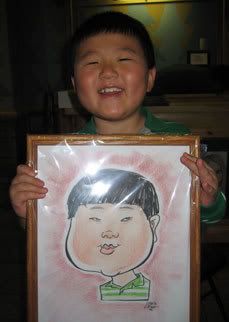 ok lame. this kid pretty much had the greatest face ever but the mom didn't want it all crazy silly and I still haven't quite figured out my real exaggerated but "cute" look yet. so they got a tame one.
eh. ok. kinda fun to put all the stuff in there. busy mom.
demo that he bought. coloring sucks. check out the frayed rip on top too, we had these lame metal rippers with no blade that I finally figured out how to rip so it's not all frayed and crappy.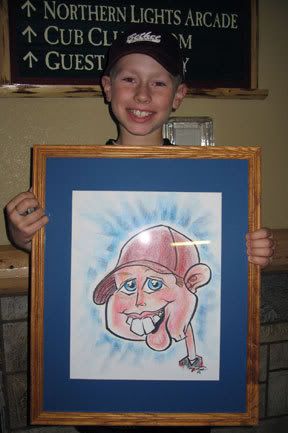 I liked this one except for the hat, ugh. I suck.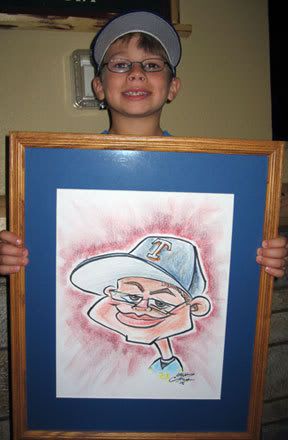 I like this one too, prolly went too dark on the background though.
eh. tamish.
tons more coming soon! and better ones!
and for more from this batch visit my Ten Ton studio message board HERE!