drawn during the month of

MARCH 2008

at Great wolf lodge, PA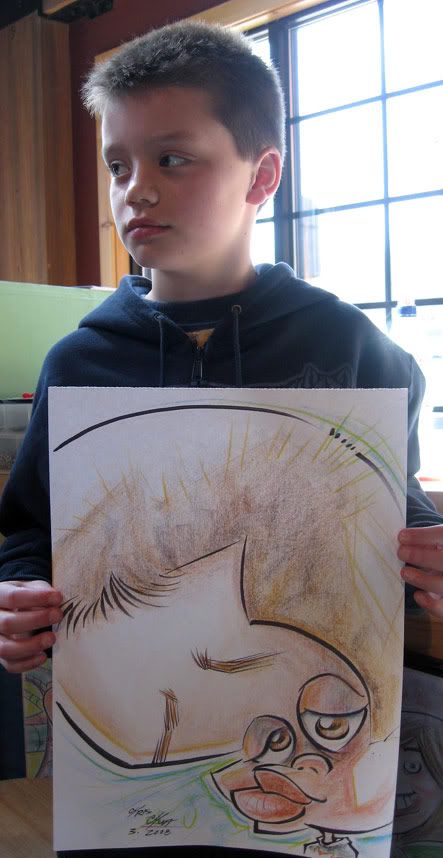 five head.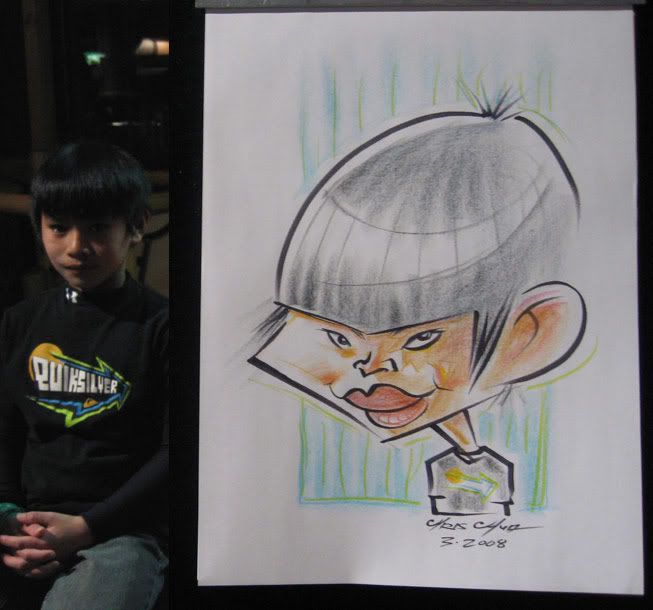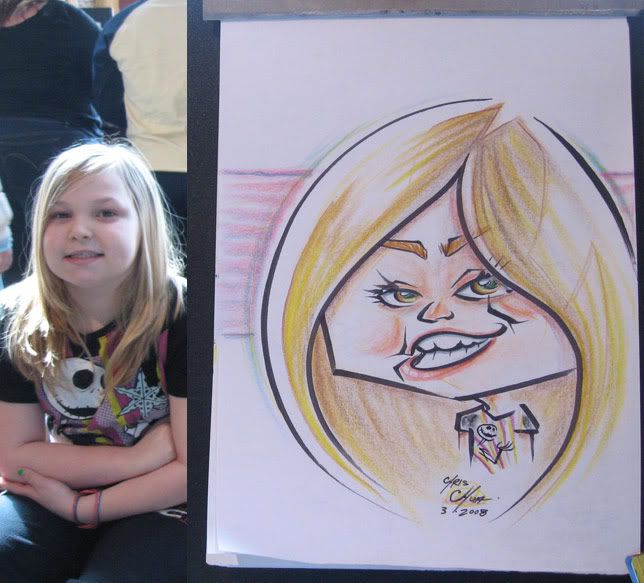 likeness isn't as great but I like the lines here.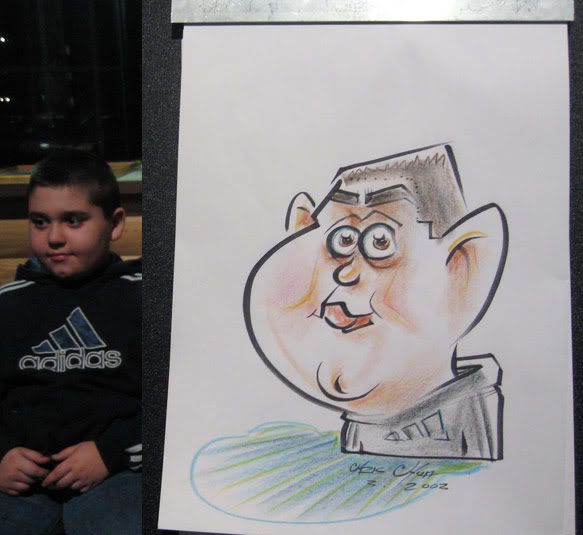 was playing around with a cast shadow. still want to explore it more...
hee hee, he had a funny smile.
my co-worker, Cindy, asked me to draw her friend.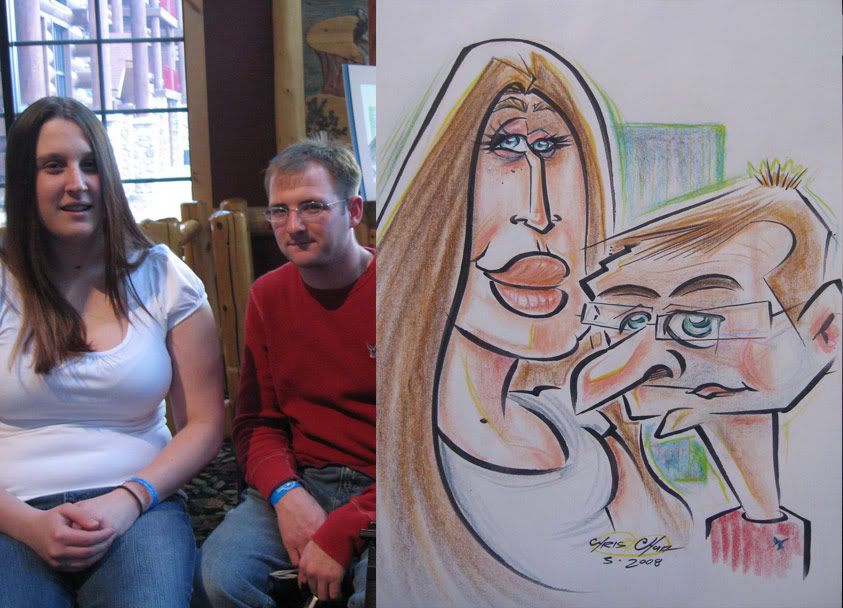 I like the contrasts of the two.
I messed up the likeness, but liked the bolderness of things. yes, bolderness.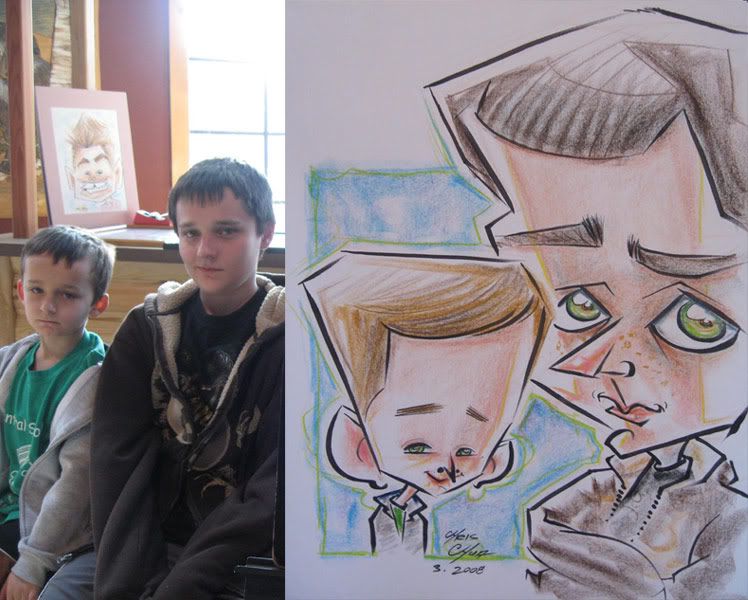 I like this one.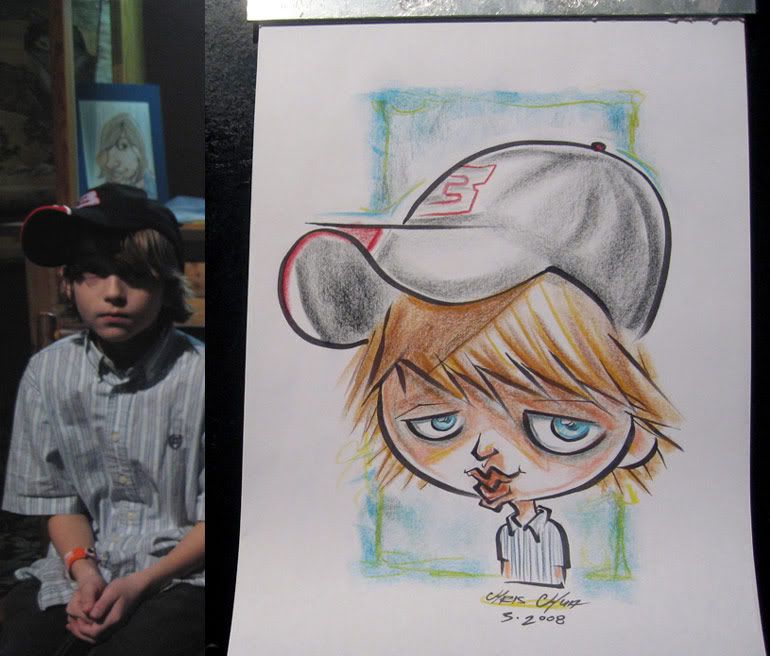 missed on the likeness, but liked the coloring.
I like this one, she had a very cool and interesting face.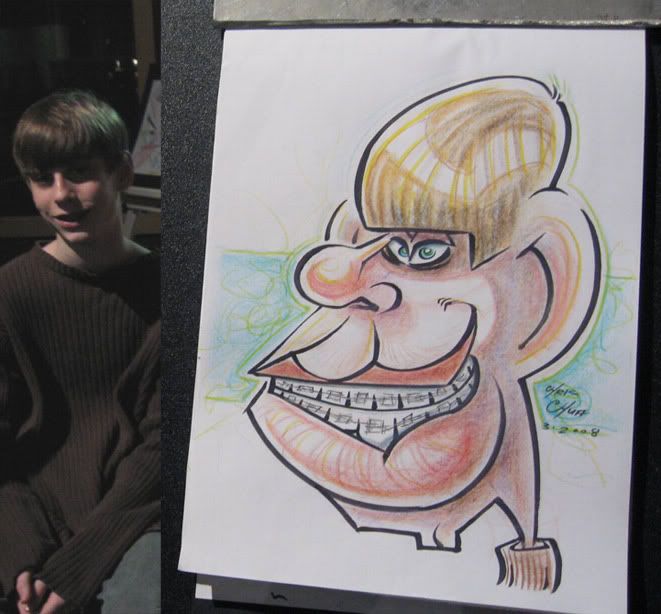 I like the shadow coloring here.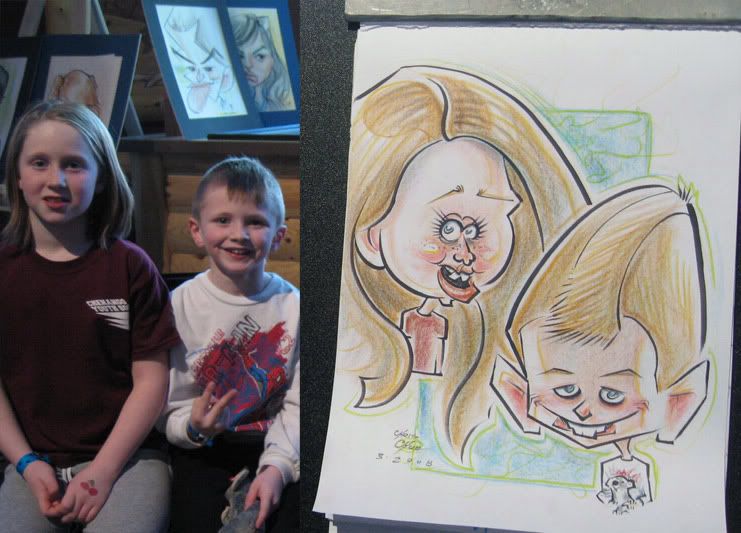 these girls came to the lodge with these pirates of the Caribbean props prepared, which I thought was pretty cool. although you would think they would like really silly stuff, not sure how much they ended up liking the sketch. and I didn't really exaggerate much too. the girl on the right didn't think it looked like her. sometimes with props or any other kind of special requests like they want to make a silly face or whatever, you get caught up too much in them that you get distracted from the main focus of exaggerating and solving the face.
silly.
she likes coffee. check out that wonky looking cup.
the kid is punching my co-worker, Alex, who I've drawn a whole buncha times and posted before.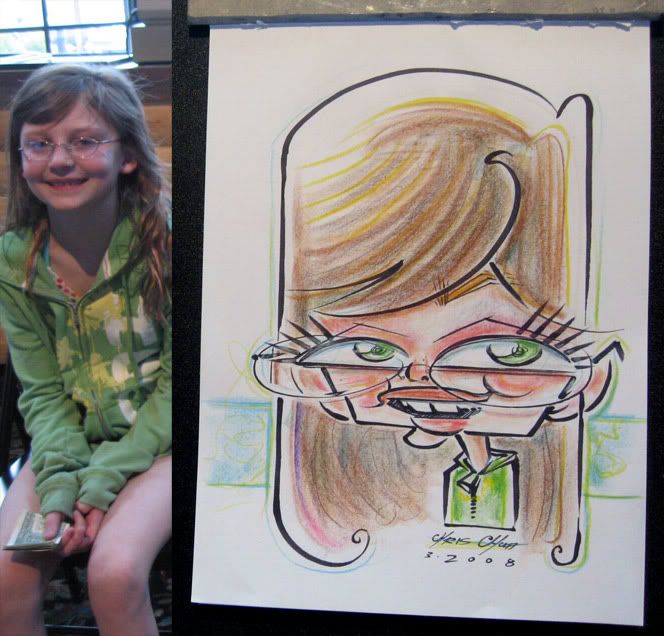 I liked the way this came out. very graphic. I started going through a phase where I was trying to go more bold line cuts with more horizontally and vertically cuts. They seemed to really like it too which is nice.
I like the cheek lines swirling.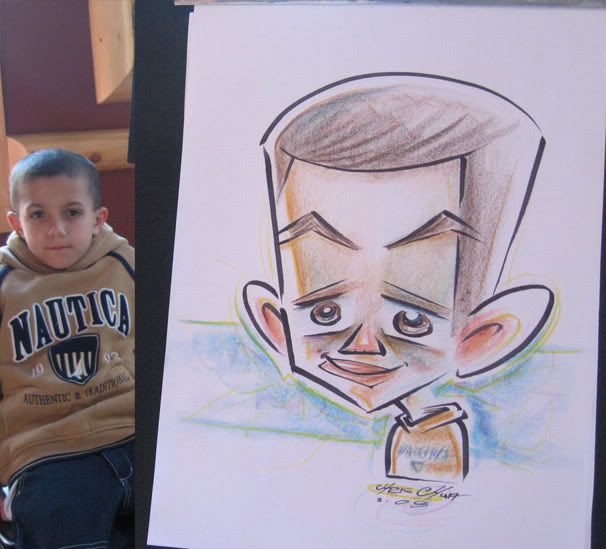 weak likeness but I liked the eyes, trying some new things.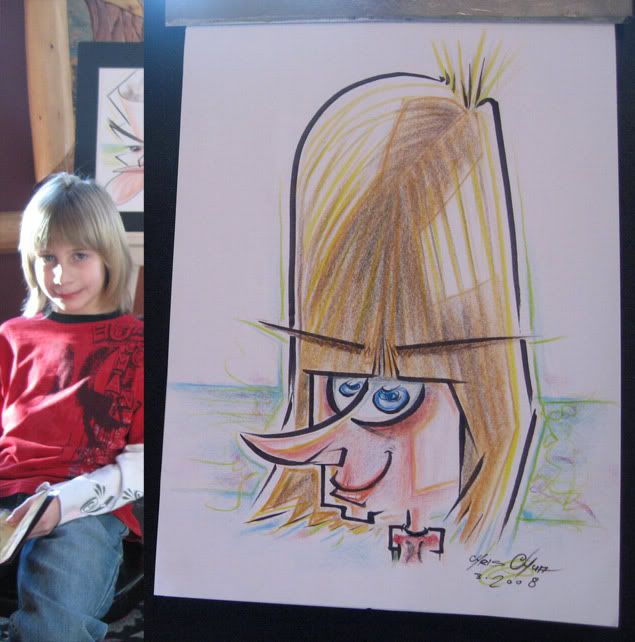 I really like this one, thought the kid had a fun face to draw. the mom wasn't very happy with the nose I drew though- too pointy. She asked if there was anything I could do to fix it. Sorry, it's permanent marker.
the coloring got overworked. I tend to do that at times.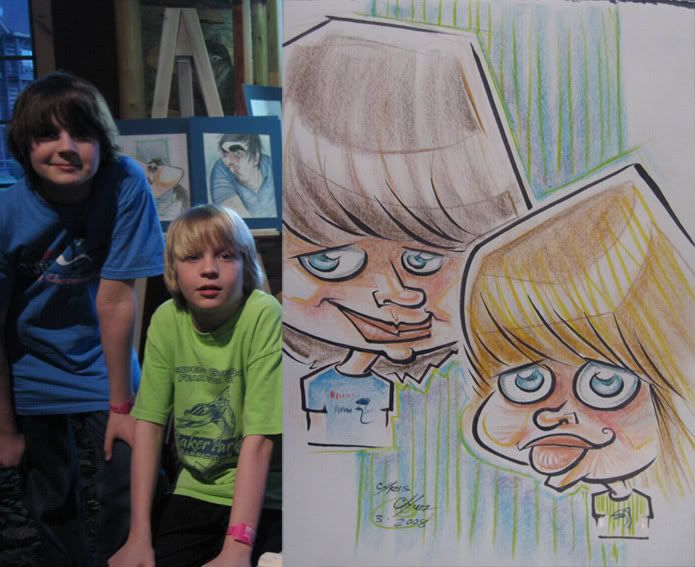 turns out that these are the cousins of a co-worker at Dorney Park, who is also a caricature artist. nice fam.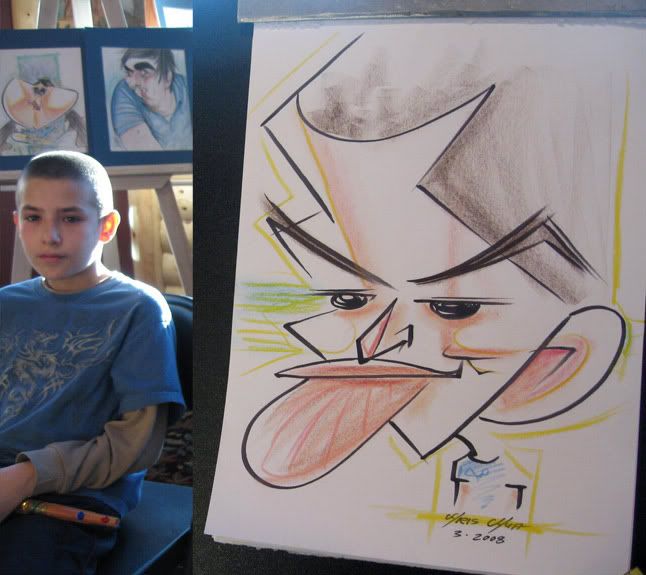 demo. not very good likeness but fun lines. oh and if you look closely, there's a Joe Bluhm sketch in the background. Joe was visiting Six flags, NJ, a few weeks prior and I happened to be visiting that day as well and Joe did a rad sketch of a co-worker. I needed some mats and this sketch somehow got mixed into the box when they brought some over so hell yeah, I'm displaying that.
I like the way I implied the drums with the marker lines.
he had turtles on his shirt and even little turtles on his pants! I actually thought he looked like a turtle too, heh. yay for turtles!
he had a funny smile. check out that shirt- "Dook" University! ha! me funny.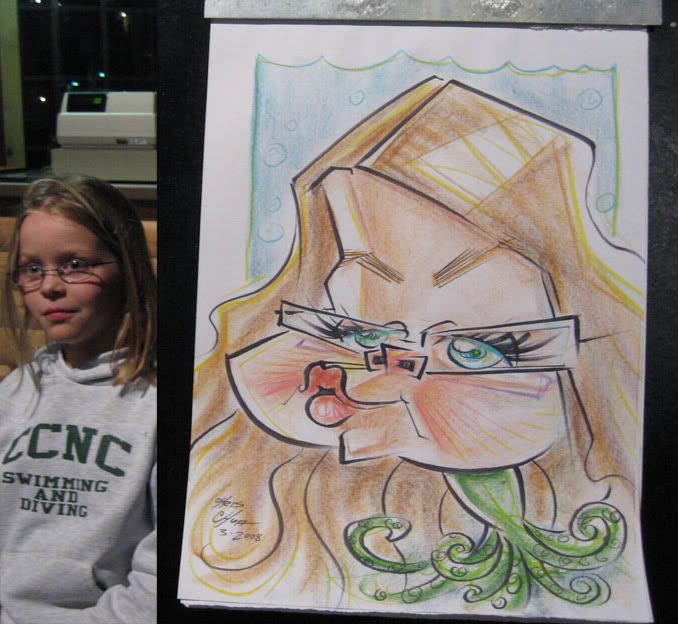 squid!...which ended up more like an octosquid.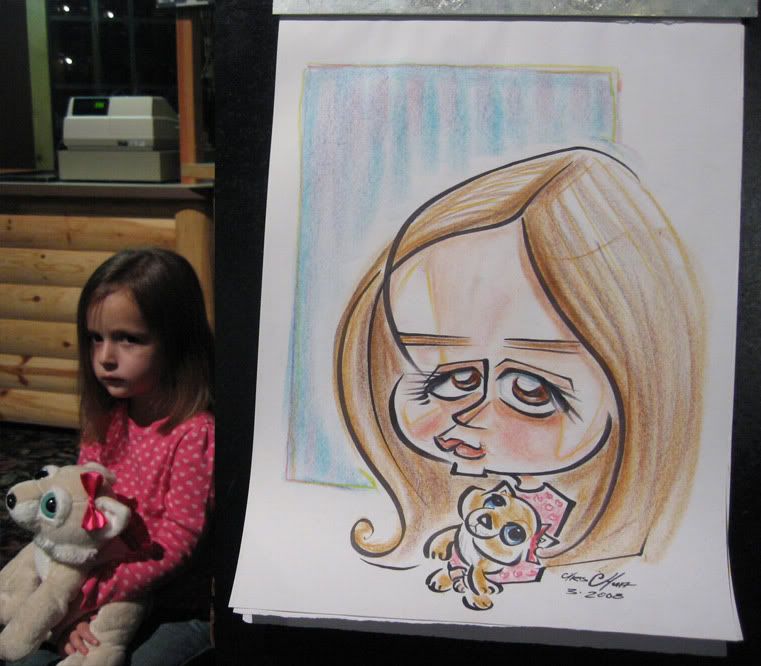 April 2008 pics coming up soon! and there's a lot of stuff I did that month that I like, including some rad Zitman and me collabs! and I think April is where I really started getting into a more comfortable style evolution, which is constantly still evolving, but it started taking more shape during that month. stay tuned!