drawn during the month of

August 2008

at Dorney Park, PA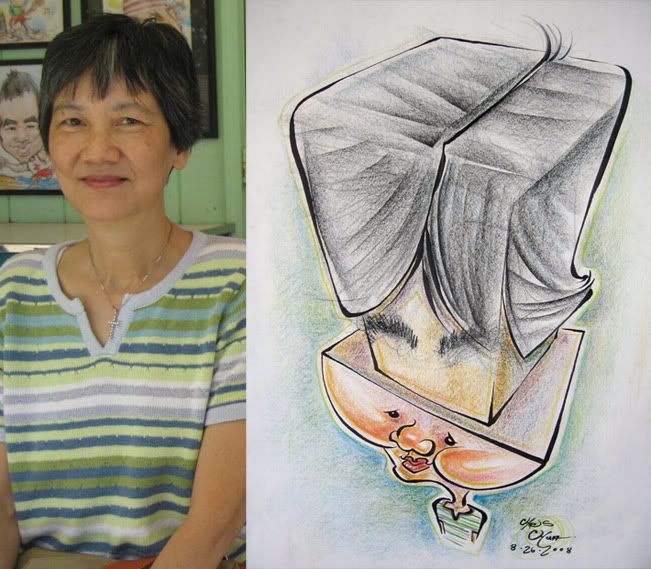 1. my mom visited the park one day and I thought I'd draw a wacky one of her. I've had a hard time drawing my mom in the past and was actually pretty happy with this one. one of my favs.
here was my 1st one actually, a quick tame one I did just prior to the shapes one. obviously I like the crazier wackier one, but I think my mom liked the "nice" one more, heh.
2. This is one of my very favorites. maybe top 5? I suddenly got the idea and I think it came together pretty well. and the added overall heart I thought was neat too. This is of a co-worker, Roger and his wife. Roger's a cool art teacher at a local performing arts high school who decided to give caricatures a try this past summer. It was something that was very different than what he is used to and he caught on pretty fast and did some great work. I mean, just because you're an art teacher doesn't necessarily mean someone will be good at it. but Roger's the real deal, a true artist who constantly challenges himself and loves learning. I always enjoy talking art shop with him. He's also a pleasure to work with. He has a very cool more illustrative approach to his caricatures. I'm looking forward to seeing him progress and evolve. oh and it sucks that the few times that my camera is accidentally on a low quality setting making for grainy pictures of the pic and of Roger and wife.
3. another Lauren. I like the flowy swirly lines. not too happy with the likeness/exaggeration though.