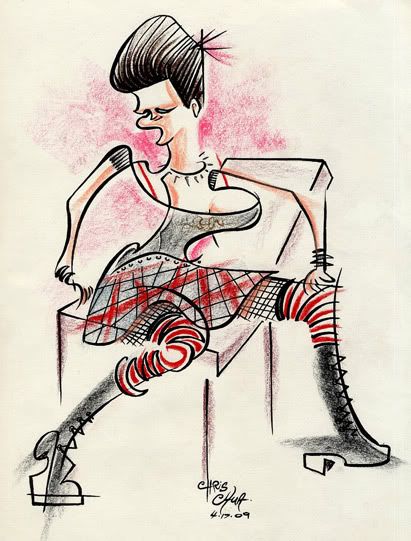 My good buddies:
Matt Zitman
,
Alex Clare
and
Stacy Pierce
have been going to a very cool figure drawing session in Philly called
Dr. Sketchy's
where the models wear cool and extreme outfits every time. I decided to tag-along with them to a session last month (they have a session once a month every 3rd Friday). The one I attended had the Philly Roller girls as models. We got there about an hour late because of traffic but it was still a lot of fun. It's been a while since I've done figure drawing and I always enjoyed them.
At the end of the drawing session you can submit your best pieces and have a chance to be chosen as "art monkey of the month" I submitted the above piece, it was drawn from a 40 minute pose by the model. well, I just found out I'm an art monkey! woo hoo! or should I say ooh! ooh! ooh! y'know, like a monkey, heh. You can read all about it, see all the other entries and more
HERE!
There are actually 50 Dr. Sketchy branches all over the world so look into it, there might be one near you. here is a link to all the
branches
. I highly recommend going. thanks to Philly Dr. Sketchy director,
Nicola Black
, and everyone for putting on these great events!
oh and I've got some new live caricature pics coming up soon so check back!