Here's some co-workers I drew last month during my stint at Busch Gardens in Tampa, Florida.

1. John Lafree- assistant manager who has a killer caricature sketch. A really cool and funny dude as well. He's suppose to be a worm.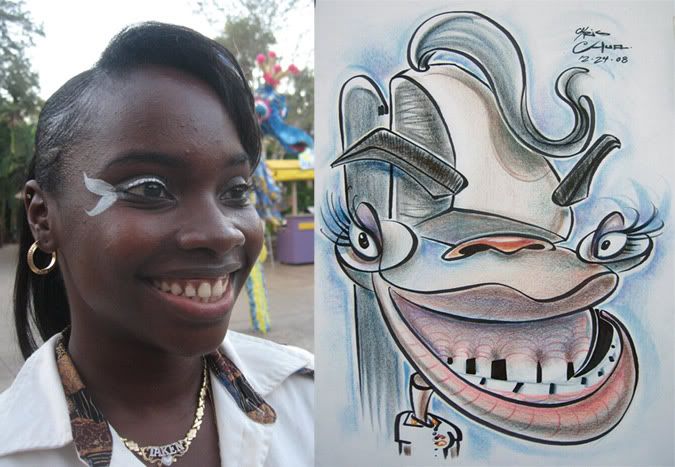 2. Antoinette- I liked this one mostly except for the hair that should have been more straight down.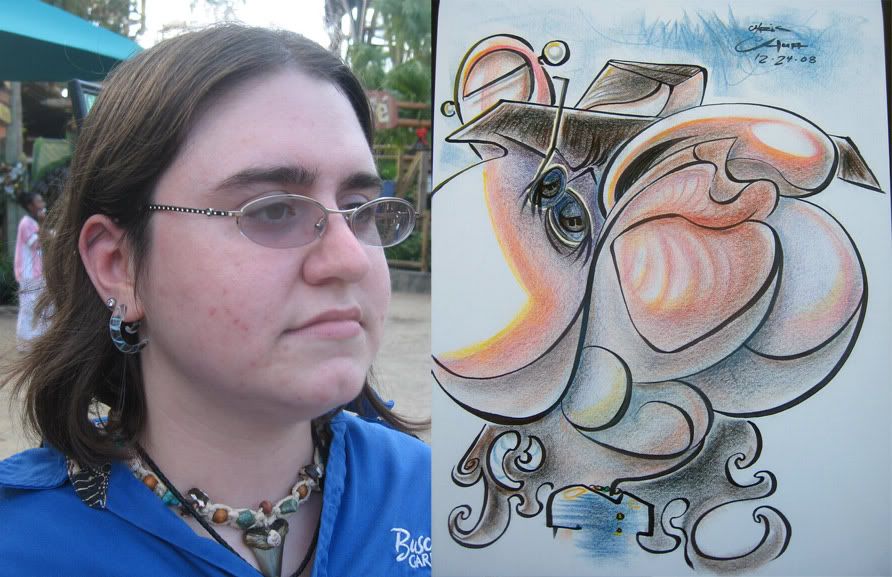 3. Ashley Gaia- I like her last name "Gaia" sounds pretty cool. I messed up the chin area a bit, weird round line that doesnt read right.
4. Kara- she's got a really cool great face. I didn't go as nuts but was happy with the look and vibe of it- kinda futuristicy. I ended up going in a sort of robotic vibe by chance and it turns out she really likes that old-school retro robot look, with those round bubble ray guns and stuff. hooray for good coincidence! messed up the shape of her ears though.
5. this is Nigel Williams, a relatively new caricature artist that really impressed me with his sketch. he did some awesome stuff and if he keeps going at the rate he's going he's going to be a force! He's a funny guy with a great laugh, heh. he's got a great face, with crazy teeth and I just kept missing on him. this was my 2nd version which I liked at the time, but now, don't like it as much, I like the look of it, but weak likeness. Nigel didn't like it either.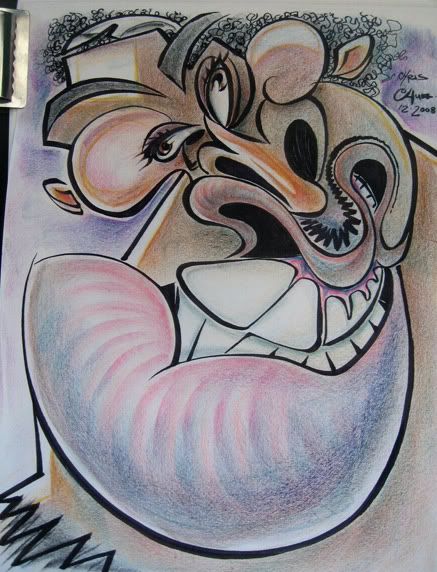 6. this was my 1st try of him. Nigel liked it more than the 2nd one. I like the 2nd one better. I think I lost likeness in the nose and eye area. I'll have to do a better one.
7. Genesis- a cool name too. I like this one, but nobody else likes it, heh. I saw an egg shape and then made a crack and had an egg yoke that doubles as her necklace she has.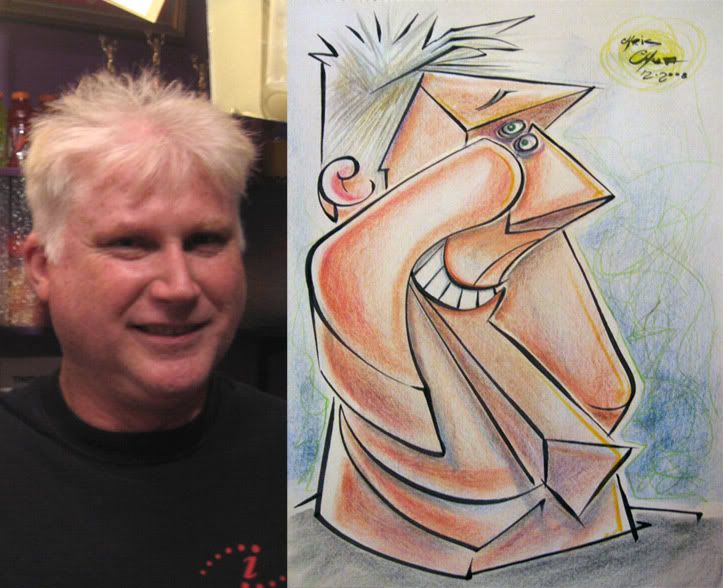 8. Chaz- every week we'd have an art night at a local boba house (bubble tea). this was the owner I drew.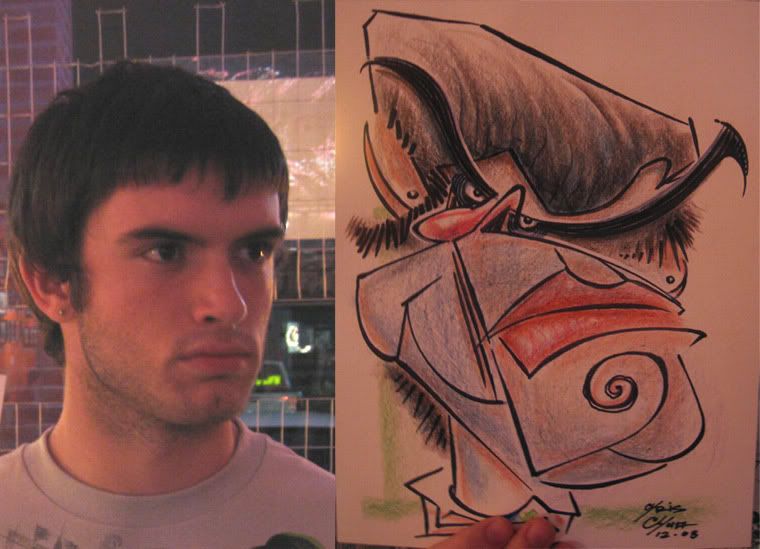 9. AJ- a caricature artist at Busch Gardens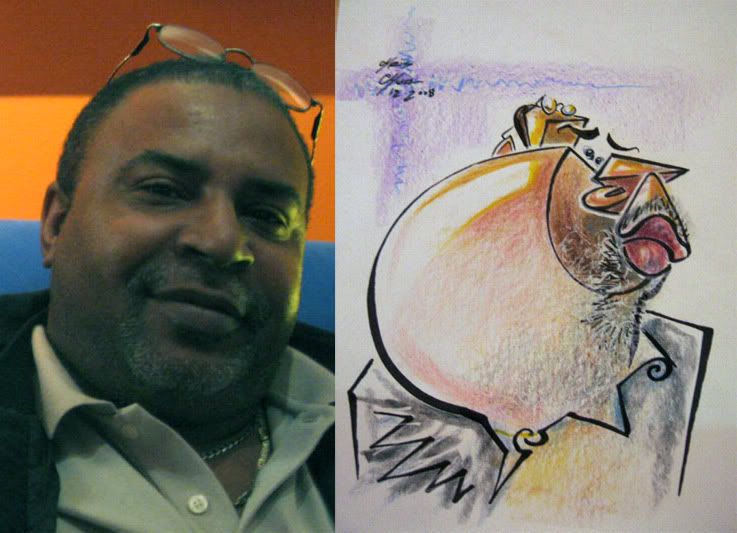 10. Carl- another caricature artist at Busch Gardens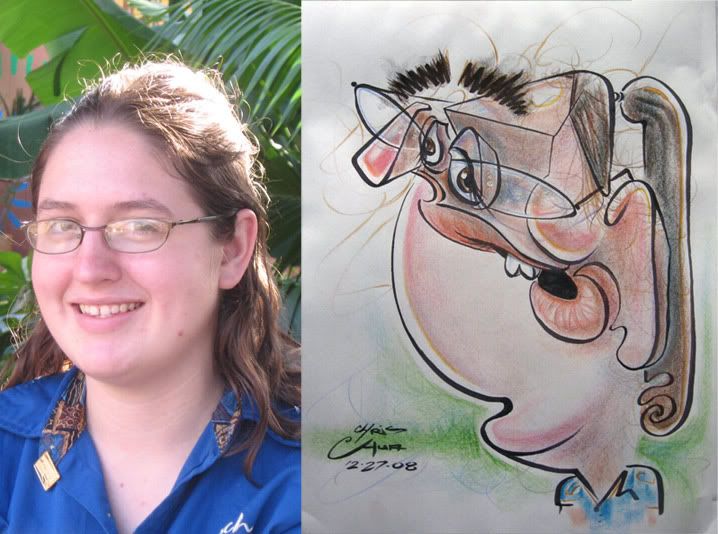 11. Kayla Gales! this was one of my rad roomies while I stayed at Tampa. Kayla has an awesome caricature style. It's cartoony, exaggerated, she gets likeness and it's cute. I know she has some vicious live jacking up abilities in her and have been trying to get her to do more of it, heh. and her caricature style away from the park is even cooler, lots of shapes, I've been trying to get her to do more of that in the park, it's just radtastic! Kayla also drew one of me that's prolly one of my all-time favorites.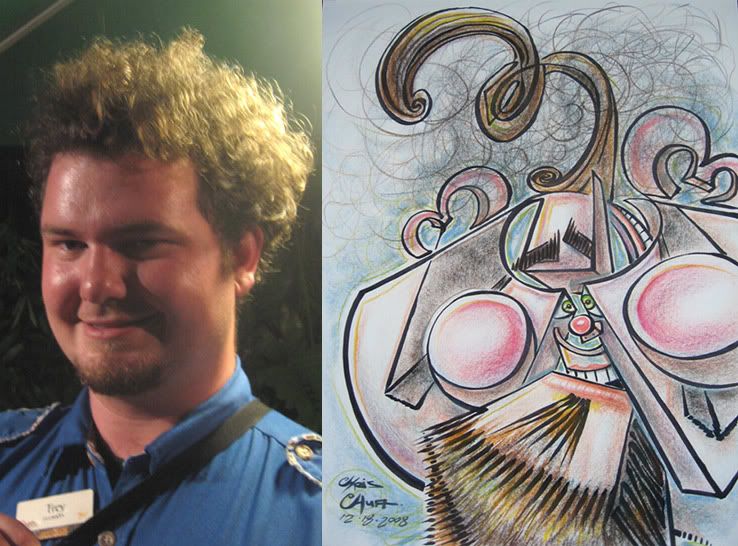 12. Trey Archer. Trey's good peeps with a great caricature sketch, he really goes for it which is sweet. John is his real name. Trey, being his nickname cause he's the "3rd" John. So I decided to make his hair a "3" as well as his ears. I think it takes away from his trademark poofy hair and prolly should have indicated more hair mass.
13. Kisha! Kisha is silly and wacky :) I like the more aggressive and flowy lines on this.
14. Robyn Rey! this is prolly the most out there one I drew down there. I was happy with it for the most part. Robin likes to crochet and she likes bunnies so I threw them in there. and the color
pwerple!
hooray! Robin drew one of me that was awesome and shapey!
15.
Sean Gardner
. Sean's a jerk :). but still my good buddy, heh. He's one talented mofo, check out his work on my links. this is a pretty simple one, but I still like it. I'm going to be doing a more crazy one soon of him. I just didn't get a chance to do one while I was down there, even though I planned on it. gonna have to cook up something good for him, he's a good guy and fun to talk caricature shop with. he did a pretty sweet one of me, it's on his blog.